Project Description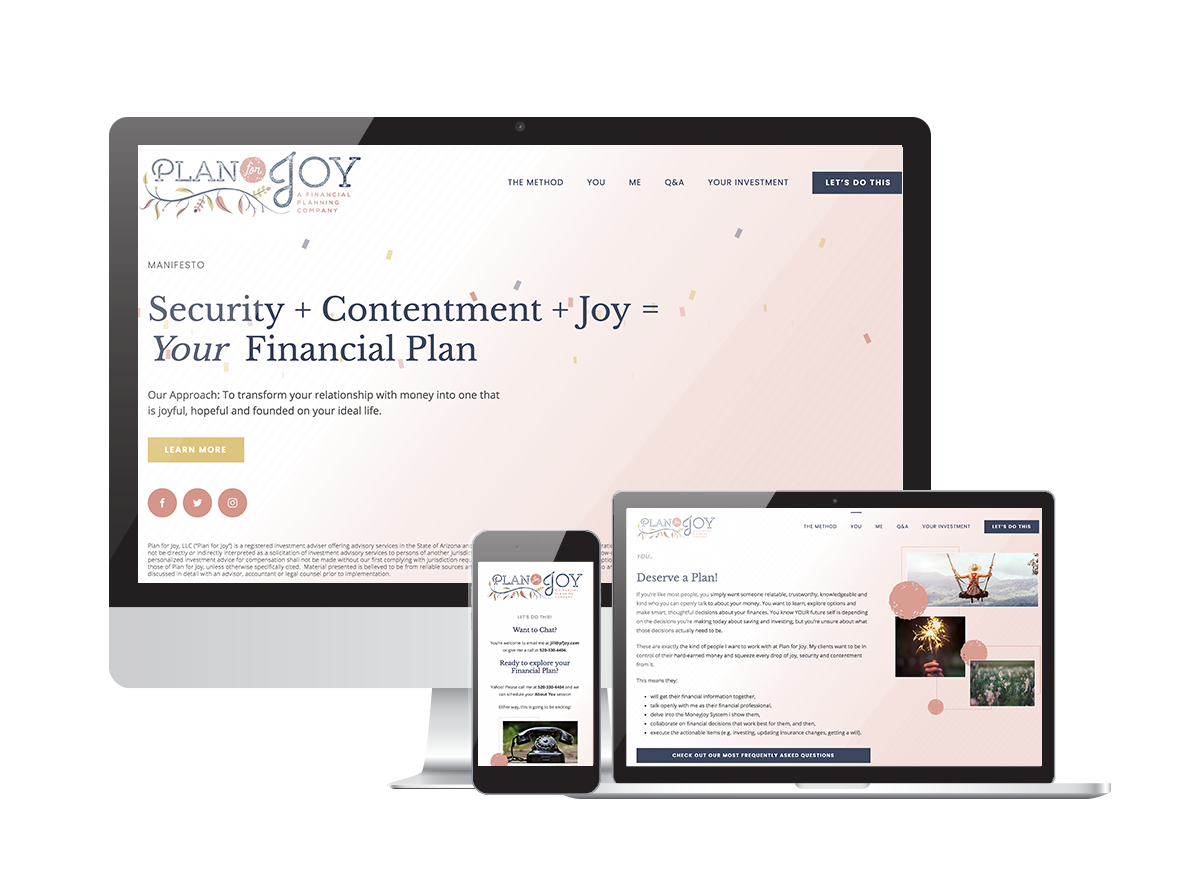 Sometimes friends become clients and sometimes clients become friends, as was the case with Dr. Jill Kismet, CEO of Plan for Joy. Jill had a specific – and lovely – vision in mind for her new financial planning company, and it was so rewarding to bring her creative ideas to life. From the custom code pen confetti animations featured on the home page to the creation of coordinating design elements, this project really provided a ton of space for creative muscle flexing.
This project was completed remotely, with communication happening via phone calls, text messages, and email. Duplicate pages were created for mobile users so that the site looks as great on a phone as it does on a desktop computer. Being a virtual financial planner, Search Engine Optimization was, and continues to be, an important aspect of her strategy. I can't wait to see Jill's business evolve and grow!
Plan for Joy is a virtual financial planning company (if you live the Tucson, AZ, area you have the option of meeting with Jill in person) with a unique structure that focuses on you, and aims to bring security, contentment, and joy into your relationship with money.
I am deeply impressed by this highly individualized, caring and dedicated company.
I love Amy! And you will too! Metta seeks to take your business vision and bring it to life. It's a really unique superpower to be both technically savvy enough to build first-class websites but also have the creativity, and genuine spirit of heart to design from the client's viewpoint. And for those of us that are women business owners, we often want a woman's perspective in design, because YES we are seeking to draw women as clients. There is no outsourcing, there is no lack of transparency, there is no complicated run around. There is just Amy doing her best to bring your business passion to an online audience that will say "WOW" when they see your website! I think what I liked best in the process was that I could really say what I felt was working and what wasn't as my website unfolded AND she genuinely wanted to fix it. Her easy-going communication style is truly a gift to the process of getting a product you love in the end. So I think she has solved the hardest part of website design – you don't have to dread giving honest feedback and pray that your website will come out OK. She will guarantee that it comes out fantastic! I feel very lucky and honored to have found Amy, 2500 miles away, and have her build my website. – Dr. Jill Kismet